Laser Therapy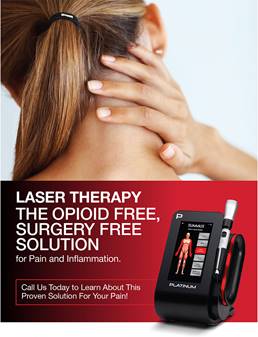 Unless you or someone you know has struggled with severe injury, chronic pain, or degenerative disease, it is difficult to understand the impact it can have on life. But if you struggle with chronic pain, you know its debilitating effects. You've likely given up hobbies, family activities, and travel in your efforts to control pain and maintain functionality. Unfortunately, until now, the only treatment options for these types of conditions have been surgery or addictive pain pills, which often have unwelcome side effects. But recent advances in medical technology may offer advanced, effective relief.
Summus Laser is a state-of-the-art, Class IV laser which targets damaged tissue with specific wavelengths of light that have been found to interact with tissue on a cellular level and accelerate the healing process. This process enhances the body's natural regenerative functions, as well as stimulating the release of endorphins and collagen. This results in accelerated wound healing, as well as reduced pain, stiffness, swelling, and spasms. As the injured area returns to normal, function is restored, so patients may take their life back and resume their favorite hobbies and activities with little to no pain.
High power laser therapy can stimulate all cell types, including soft tissue, ligaments, cartilage, and nerves. Some conditions that have been shown to respond well to Summus Laser include:
Peripheral Neuropathy, Fibromyalgia
Back and Neck Pain
Sciatic Pain
Arthritis pain, Degenerative Discs/ Joints
Carpal Tunnel Syndrome
Knee Problems
Tendinitis, Trigger Fingers
Bunion Pains, Plantar Fasciitis
Sprains and/or Strains
Headaches, TMJ, Sinus Trouble
Summus Laser offers an alternative to pain management without drugs and surgery, and it's a welcome change for athletes as well as patients interested in natural remedies.
Are you a candidate for Summus Laser therapy? Contact us today to schedule an evaluation and your first Summus Laser treatment!
---
Laser Therapy at All Ways Chiropractic Center | (360) 352-8896